Reflecting on Earth Day
From growing up in Algeria to a career at Ecolab, Pedro Sancha has always had a personal connection to Earth Day.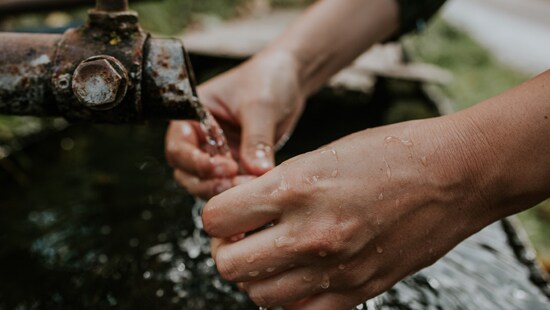 What does Earth Day mean to you personally?
I think of my childhood in Algeria. It is the largest country in Africa and the tenth largest in the world, but it is made up of 95% arid land, so its population must concentrate in a small strip of land around the coast. Water is so scarce that it is hard to grow food, let alone develop a manufacturing industry. I remember seeing water transported in trucks and my mother boiling it and adding small concentrations of biocide to keep us safe. Despite all her precautions, I contracted a water-borne viral infection and was bed-ridden for two months. So, I never took access to clean water for granted. Today, I reflect on those years and I think of the growing and relatively young population in developing countries who are disproportionately impacted by water scarcity and climate change. They deserve the best standards of living and opportunities that technology has to offer. We cannot let climate change and water scarcity get in their way.
What are some of the Earth Day goals that companies are working toward in 2021?
The theme for Earth Day 2021 is, "As the world returns to normal, we can't go back to business as usual." The threat of climate change and water scarcity remains critical post-COVID-19. Indeed, both issues are getting worse, as the UN now projects a shortfall of 56% in fresh water by 2030 (vs 40% in 2015), and we all see the devastating effects of extreme weather events.
As the world industrializes, most of the water consumption (up to 60%) is used to process food, produce energy, enable connectivity and manufacture the goods that improve people's lives. This demands that industries around the globe take action to lower carbon emissions, conserve water and reduce waste. Moving, heating, cooling and treating water takes energy. Because a significant amount of that energy is generated using fossil fuels, reducing water usage lowers carbon emissions.
Many companies are working to achieve a net-zero carbon and water footprint. They are also working to create a more circular economy in which goods are accounted for throughout their lifecycle, from creation to recycling and disposal.
How are industrial companies achieving these net-zero water and carbon goals?
They are using digital ecosystems to analyse operations that involve water and energy. ECOLAB3D™, our next-generation intelligence platform, uses predictive analytics and cutting-edge technologies, such as automation, IoT, mixed reality, machine learning, image processing and artificial intelligence — combined with a global team of on-site and remote experts — to provide deep insight that leads to faster action.
We work with our customers and partners, such as Microsoft, to harness the power of data and cloud-based analytics to improve operations across industries that use water and energy. With billions of data points, cloud-to-cloud integration and digital twin technology, we're providing insights so our customers can assess performance across their enterprise and act quickly to optimise operations. By becoming more efficient, less wasteful and more equipped to respond quickly, we can go a long way towards a net-zero carbon and water future.
Are you optimistic about what global industry can accomplish for future Earth Days?
Yes, I'm optimistic for several reasons. First, we see the emergence of a coalition of the willing that is encompassing governmental agencies, new generations of consumers and forward-looking companies that are making bold sustainability commitments. Second, we are already seeing what the power of cloud-based platforms and connected devices is doing for companies' water and energy operations, and the results are very encouraging. Last, companies have realized that you do not have to choose between financial success and environmental responsibility, because they have a financial incentive to achieve net zero. The CFO and the CSO can both have the cake and eat it too. If we can change industries from the inside out, then we will certainly make great progress for future Earth Days.