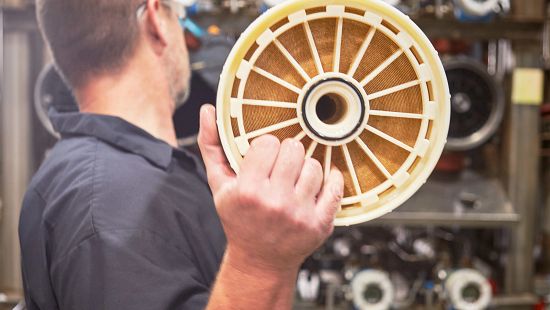 Water System
Membrane Cleanings
Membranes for RO, nanofiltration and ultrafiltration require cleanings at the right intervals and with the right procedures. Nalco Water can come to your site to perform or supervise water system membrane cleanings for your team. We have the expertise to determine if you have the right equipment to conduct an effective membrane cleaning. We also have the right expertise in chemistry, and cleaning regimens to optimise membrane performance. Don't have the equipment for cleanings? We can also do the cleanings off-site.
There can be quality and cost benefits to evaluating your filtration membrane cleaning programme. We can help you design a new cleaning programme to help you recover more flow and improve product water quality. We'll review your water treatment programme to see if we can reduce the cleaning frequency.
Designing a Water System Membrane Cleaning Programme
Nalco Water's engineers and scientists can design a cleaning programme for your plant.
The design is based on several factors, including:
Type of membrane cleaning chemicals used
Cleaning solution volume for the size of plant
Contact time (soaking of membranes in solution can aid cleaning)
Temperature (cleaning chemicals are most effective at warm temperatures)
Design of the cleaning circuit and operating parameters
Our specialists take this information into account when recommending the best and most cost-effective cleaning programme.