Interview with Compass Group Australia – Part 1
Andrew Brightmore is the Executive Director at Foodbuy, the procurement, contracting and supply chain management capability behind Australia's largest food services organisation, Compass Group.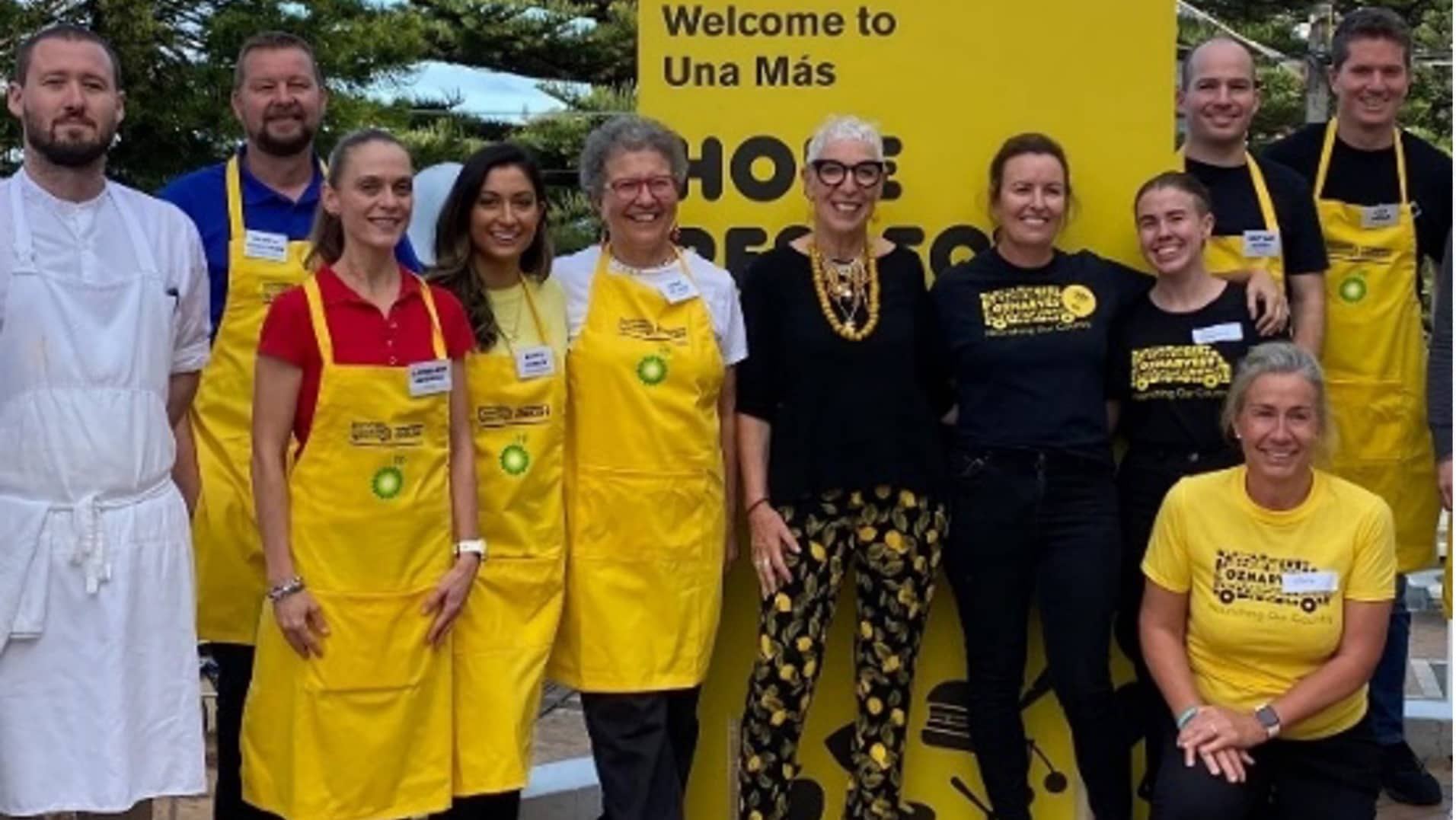 Andrew Brightmore pictured alongside Carrie-Ann Jefferies, Ecolab Communications Manager at OzHarvest's Community Cook-Off
With over 91 million meals served every year, Foodbuy is the food and hospitality industry's leading procurement services organisation focused on providing the highest standards of food, beverage and service supply chains delivering sustained cost advantage, differentiation, innovation and value to both, Compass Group, and its clients.
Ecolab partners to make the world cleaner, safer and healthier – helping customers like Foodbuy, its clients and Compass Group succeed while protecting people and vital resources.
---
Foodbuy and Ecolab both support OzHarvest in Australia – tell me more about why Foodbuy partnered with such a great cause?
---
As the world's largest food and support services provider, we have a compelling opportunity and a significant enduring responsibility to help eradicate food waste and to ensure good food gets to those most in need across Australian communities. We share these values with the amazing team at OzHarvest who not only provide that critical conduit into those communities and charities, but also complement our internal work, across our +750 sites across Australia to both rescue and engineer food waste from our operations and in helping raise awareness with consumers. Tackling food waste has long been, and remains, a critical component of our business alongside our expert culinary services to our clients. Our commitment is enshrined in our global "Planet Promise" net-zero GHG emission strategy where partnerships such as with OzHarvest help us design, develop, educate and bring these commitments to life. We also recently became signatories to the Food Waste Pact (the first in our industry to do so) as another partnership that will help us tackle food waste, stopfoodwaste.com.au. These Partnerships form part of our WorldFirst™ approach to "Purpose Led Procurement" and each helps us become a better business.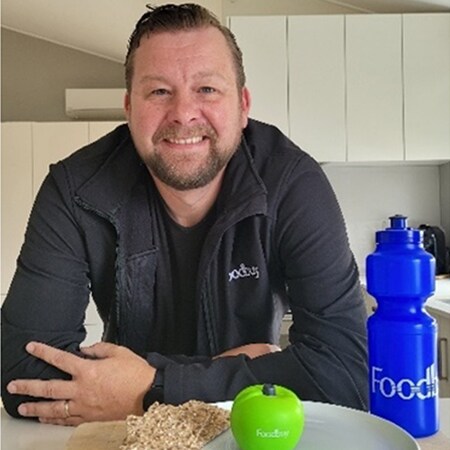 "As a migrant to Australia in 2010, the Indigenous story of Australia was new to me personally and in equal parts intriguing as it is shocking."
---
Andrew Brightmore, Executive Director at Foodbuy
---
---
Sustainability
---
Over the years, Ecolab has done a lot to try help Compass Group achieve its sustainability goals such as:
Removing all hazardous chemicals from all sites
Reducing packaging of cleaning products
Launching the SMARTPOWER™ solids range and;
A scrub free product – which means a reduction in time spent during the cleaning process
---
Have you seen an impact or results in these areas?
---
Absolutely but this should be no surprise. The partnership we strive for with our supply chain, and that we enjoy with the team at Ecolab, is founded in understanding new technologies, their potential applications and in carefully understanding their effectiveness in our operations. Especially in chemicals, our work together must be focussed on ensuring we enhance safety and the wellbeing of our people before we introduce a new product and technology. Each opportunity is carefully developed through our mutual teams and where both our operations and dedicated safety teams play a pivotal role in ensuring concepts become proven and can measure success. The quality of collaboration, of conversation and co-development is key to a true partnership and we are delighted to continue to enjoy this with the team at Ecolab.
---
How important is sustainability to your clients?
---
ESG is an ever-increasing critical component of business strategy and at the very top of the leadership structure. Accelerated by the pandemic, global consumers are increasingly making decisions on where to spend time, where to spend their money and where they wish to work based on the overarching "Purpose" of the organisation and their approach to sustainability, diversity and inclusion. For our organisation and our clients, being able to clearly communicate and demonstrate ESG commitments is key in both their relationships with their employees (current and future) and their customers. It's no longer a differentiator in business but an expectation. How we invest, where we start, what our Net-zero roadmaps look like may all be different but our commitment to being a positive contributor to future generations, into our communities and with global perspective is clear and compelling.
---
What makes Ecolab a strategic partner vs. just a good supplier?
---
"Partnership" is a term used often but it can be hard to define. My challenge has always been to be able to "draw the partnership on a whiteboard". It has to have form, intent and considered pillars or layers of effort. We have many amazing, valuable and appreciated supplier relationships across our Australian business, and all have the potential to be a true partnership. However, an active partnership takes additional time, passion and energy to design, cultivate and then realise. This investment can only occur with so many supplier relationships at any point in time.
The Ecolab partnership, like all our supplier relationships, is founded in competitive commercial terms but this underpins several layers of additional conversation and intellectual capital. From new product design to innovation, to consolidated logistics and ESG through to being separately and together positive influences into our communities for both our people and our customers. These are all tenants of our Ecolab partnership and where every element was tested significantly through the Pandemic and found to be robust, of quality, of substance and effective in keeping our people safe and our operations running.
---
Mandura Product Launch
---
Lastly, Ecolab has recently partnered with Mandura to launch a range of products with the specific objective of giving back to Australia's first nations peoples.
---
Tell me more about Foodbuy/Compass Group's commitment to the Indigenous community?
---
As a migrant to Australia in 2010, the Indigenous story of Australia was new to me personally and in equal parts intriguing as it is shocking. Being able to be part of an organisation that embraces our opportunity and responsibility to listen, understand and positively add to our Aboriginal and Torres Strait Islander communities, to provide employment opportunities, to partner and develop authentic indigenous owned business and to add our voice to the change ahead for our collective communities, is an amazing privilege. Over many years, our organisation has sought to contribute with sincerity to our communities whether it be through new employment opportunities, through our prior Elevate RAP (Reconciliation Action Plan), our supply chain development (supported through being founding corporate members of Supply Nation) or simply sharing stories and the successes of our Indigenous supply chain and the families behind them through our website and social media. For our organisation, this commitment is not an incremental element to our business nor a suite of targets and KPI's – it is part of our DNA, our language and our ability to work with all communities across Australia. It's part of what makes Australia so unique and why my family and I feel very lucky to be able to live here.
Read Part 2 of this Article


Ecolab
A trusted partner at nearly three million customer locations, Ecolab (ECL) is the global leader in water, hygiene and infection prevention solutions and services that help protect people, planet and business health. With annual sales of $13 billion and more than 47,000 associates, Ecolab delivers comprehensive science-based solutions, data-driven insights and world-class service to advance food safety, help maintain clean and safe environments, optimise water and energy use, and improve operational efficiencies and sustainability for customers in the food, healthcare, hospitality and industrial markets in more than 170 countries around the world.
Follow us on LinkedIn, Twitter, Instagram and Facebook.
---
Contact: Carrie-Ann Jefferies, 61 418 518 903, carrie-ann.jefferies@ecolab.com
---