Partnering with New Zealand's dairy farms to deliver high quality milk worldwide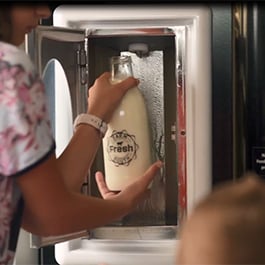 Future-proofing the dairy industry through innovation and expertise
Dairy is a key sector of the agricultural economy in Australia and New Zealand (ANZ), valued at $4.3 billion in Australia[1] and $7.8 billion in New Zealand[2]. Ecolab currently protects 35% of the region's milk and 44% of global milk supply through innovations and expertise.

Now, and into the future, Ecolab plays a critical role in helping farmers improve production efficiency and deliver high-quality milk to the market.
Innovation for local farmers
In New Zealand, Ecolab's local support team includes dairy specialists, formulation chemists and application engineers who are ready to help farmers optimise their dairy operation and support their day-to-day dairy hygiene and animal health challenges. The latest includes Hibitane 2 Hard Water a unique formulation specifically designed to work harder on farms challenged by poor water quality, actively maintaining a healthy and productive herd.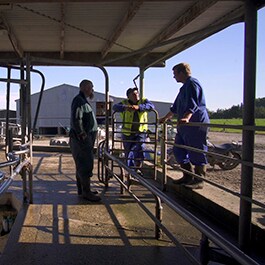 Partnering with the farmers in delivering high-grade quality milk
For Darren Stenning, District Sales Manager for F&B division in New Zealand, milk is fundamental to life, right around the world. And delivering expertise to farms of all sizes, ranging from 20 cows, right up to the large commercial 2,000 herd farms, provides the opportunity to make a difference in the farm industry.
"My goals, and my farmers' goals are aligned, we both want to deliver high-grade, quality milk."
– Darren Stenning, Ecolab district manager, Southland New Zealand
"They (Ecolab) look after all our milk quality, all the cleaning of our plant and equipment. They always have the best people, best service, and the values are quite aligned as well, so our business always wants to do the right thing, do what's right and that fits well with what Ecolab wants to do for us."
— Matthew Richards, Chief Executive Officer, Fortuna Group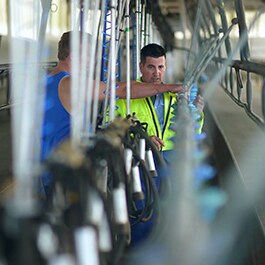 Ecolab has always been at the forefront of technology development for Dairy farmers in New Zealand. With a combination of globally sourced technology and locally developed solutions, our technologies and programmes tested in New Zealand conditions, provide quantifiable value to the specific challenges found on New Zealand farms, whether that be improved operational efficiency, safety, milk and water quality, or environmental constraints, our experience and resources make the difference.
Our cleaning and hygiene portfolio is the largest in New Zealand and offers a range of innovative solutions that include:
Teat care solutions
Cleaners and sanitizers
Bloat-care solutions
Bio Security solutions
Hand Hygiene
Specialty cleaners and rinse solutions
Organic Farm solutions 
Technical support and training
Related Stories
Visitors who viewed this story also viewed
This is a carousel. Use Next and Previous buttons to navigate, or jump to a slide with the slide dots.