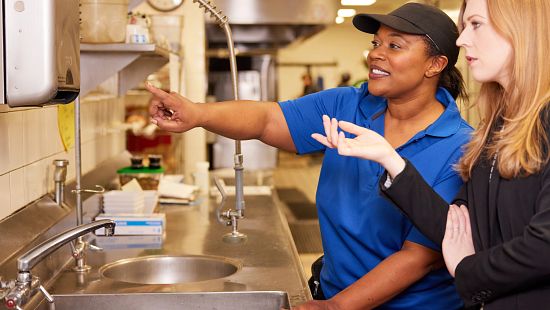 Quick Service Restaurant Brand Protection Solutions
In an industry that's rapidly evolving, it's essential for brands to set themselves apart from the competition. Quick service restaurant (QSR) food safety is critical for reputation and public health. In an industry facing shifting customer expectations, labour challenges and economic fluctuation, better visibility into locations and effective training practices can help a brand thrive.
EcoSure partners with global quick-service restaurants to create an end-to-end brand protection strategy. We understand that consumers need compelling reasons to choose your brand over others, and our programmes are designed to make those distinctions shine. We create a unique programme that encompasses the critical components of any operation, whether it's reinforcing your brand's standards, reviewing food safety practices, or improving guest experiences. We're here to help you stand out.
A Brand Protection Strategy Focused On Critical Operations
Programmes, Products, Equipment and Services
We couldn't find any results for "".
Proven Results
After 4 years, EcoSure quick service restaurant customers experienced a 22.5% decrease in normalized critical findings.

EcoSure's comprehensive quick service restaurant assessment programme partners with you to gather and analyse your QSR insights and drive positive change in your brand. Some benefits of our best-in-class programme:

| | |
| --- | --- |
| ✓ | Increased brand standards compliance to stand out in a competitive market. |
| ✓ | Confidence in public health practices to keep guests safe in your quick-service restaurants. |
| ✓ | Proactive communication on the latest food safety practices to inform programme updates. |
| ✓ | Protection of your brand reputation and bottom line. |