KAY®Antimicrobial Fruit & Vegetable Treatment
and Produce Handler
KAY® Antimicrobial Fruit and Vegetable Treatment is a no-rinse produce wash which reduces 99.9% of the pathogens E. coli, Listeria and Salmonella in produce wash water. It is the foodservice industry's first no-rinse produce wash to be cleared by both the EPA and FDA. Used in conjunction with our patent pending produce handler, this is the perfect solution for stores that don't have the space or want to invest in a dedicated produce wash sink. This unique solution avoids expensive plumbing and maintenance, complex installation and while saving precious wall space.
A Unique Dispensing System
     
Antimicrobial Fruit & Vegetable Treatment'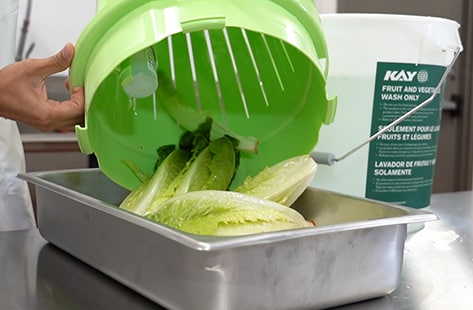 s unique handler design is easy to use, provides employees with visual verification that product is dispensed, and controls the delivery of antimicrobial concentrations for effectiveness and consistent results. The handler eliminates the need for a dedicated produce wash sink, plumbing and equipment maintenance.
Pre-measured Concentrate
When used with the produce handler, this pre-measured concentrate bottle automatically mixes at the right dilution rate with no dispensing equipment or personal protective equipment. It can wash up to 80 lbs. of produce at a cost of less than $.01 per meal. Use on both whole and processed produce. No rinse necessary. The product leaves no after-taste or smell. It also washes off waxes and residues from the produce and often makes it look more appealing.

See How it Works:
See how it works: