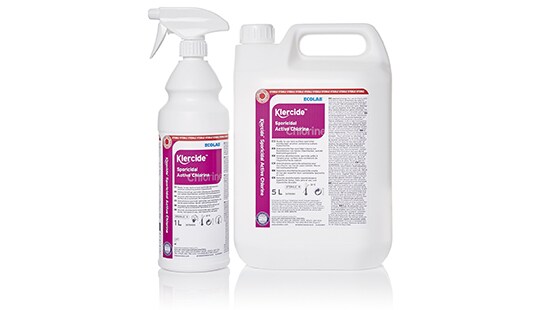 Klercide™ Sporicidal Active Chlorine
Ecolab Klercide™ Sporicidal Active Chlorine is an effective sporicidal with a broad spectrum of activity, specially formulated to help control the kinds of microbial contamination most likely to be found in a cleanroom environment, including difficult bacterial spores.


Klercide™ Sporicidal Active Chlorine Features and Benefits
Use: Disinfection for large and small surfaces and transfer disinfection and following excursions and shutdowns.
Efficacy: Bactericidal, Yeasticidal, Fungicidal, Virucidal and Sporicidal
Format: Available as a trigger spray and in a capped container. All formats are double bagged.
Compatibility: Klercide Sporicidal Active Chlorine is compatible with an extensive range of cleanroom surfaces and the Klercide™ detergents and peroxides as well as Klerwipe™ cleanroom wipe range.
Related Cleanroom Solutions
Learn more about how Ecolab's Cleanroom solutions can help your facility produce safe, compliant products that exceed patient standards, measurably improve operational efficiency and help achieve sustainability goals.
No related solution pages were found.