Hibitane 2 Hard Water
Utter Health Solutions

HIBITANE 2 is a Chlorhexidine Digluconate based teat spray designed to control mastitis causing organisms. HIBITANE 2 is effective against bacterial colonisation for the normal period between milkings. It has a broad spectrum activity (99% minimum efficacy) against common bacteria; staphylocci, pseudomonas and coliforms.

Hibitane 2 Hard Water is the Latest Advancement in Teat Care
Its unique formulation has been specifically designed to work harder on farms challenged by poor water quality, actively maintaining a healthy and productive herd, protecting your most important asset and allowing you to produce the best quality milk possible.
Made in New Zealand
Features
Unique hard water formulation
Added emollient
Anti-microbial action
NPE and QAC free
Meets EN 1656 testing
Benefits
Effective across a broad range of water types
Emollient supports skin conditioning
Broad spectrum killing power
Low residue profile
Concentrated formula
| Item | Product Description | Pack Size | Qty per |
| --- | --- | --- | --- |
| 7303083 | Hibitane 2 Hard Water | 20L | 1 |
| 7303084 | Hibitane 2 Hard Water | 100L | 1 |
| 7303085 | Hibitane 2 Hard Water | 200L | 1 |
| 7303086 | Hibitane 2 Hard Water | 1,000L | 1 |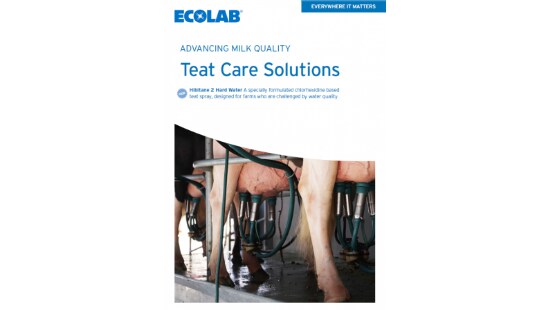 Advancing Milk Quality:
Teat Care Solutions