Ecolab Supports Communities in Need Through Product Donations, Cash Grants and Volunteerism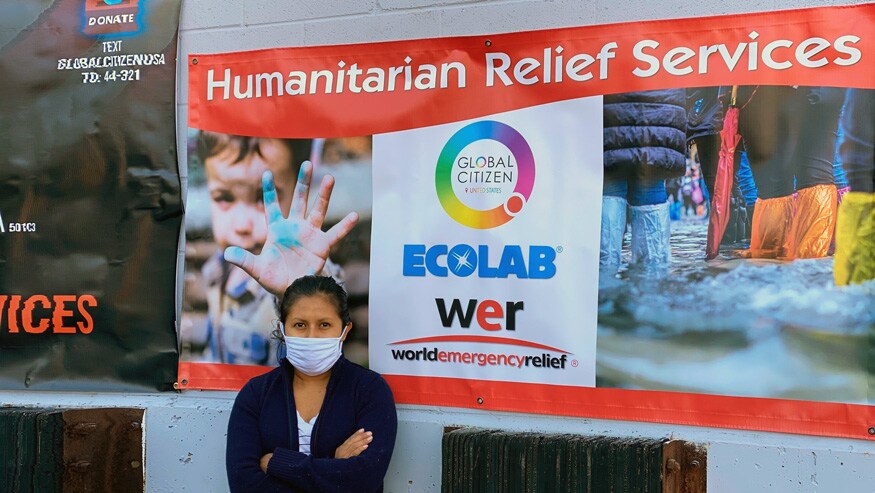 For nearly 100 years, Ecolab has led with purpose and focused on having a positive impact for our customers and our communities. We have also long believed in supporting our communities through programmes that make a difference both close to home and around the world. It is core to our culture and commitment to making the world a better place.
As we continue to experience global crises, including the impacts of the COVID-19 pandemic, the escalating effects of climate change and, more recently, the war in Ukraine, Ecolab remains committed to supporting our communities around the globe.
In 2021, Ecolab responded with our largest-ever global giving campaign, valued at more than $40 million dollars working hand-in-hand with our non-profit partners, we positively impacted those in need across the world through product donations, cash grants and employee volunteerism:
Product Donations: The COVID-19 pandemic dramatically increased the need for Ecolab's cleaning and sanitizing products. In partnership with relief organizations World Emergency Relief, Good360 and Global Citizen USA, Ecolab donated $27 million of its cleaning, sanitizing and public health products across 22 countries. These critical resources helped first responders and non-profit organizations equip their employees and the people they serve with cleaning and disinfecting supplies to combat the virus that causes COVID-19.
Cash Grants: Through $7 million in cash grants, the Ecolab Foundation supported local organizations in the communities where our associates live and work. These organizations are making a difference across youth and education, civic and community development, arts and culture, and the environment and conservation. Organizations including the Boys and Girls Clubs, Big Brothers Big Sisters and other academic and social support organizations that provide youth with quality after school enrichment. More than $5 million in grant funding went to organizations that support Ecolab's diversity, equity and inclusion goals, including those that provide resources for underserved communities to gain access to housing and basic needs, job training and development programmes, and early childhood and college access initiatives.
Employee Volunteerism: Ecolab associates also were individually driven to do their part. Their dedication of both time and resources embodies our purpose to help make the world cleaner, safer and healthier. Our associates generously supported charities in their local communities through more than 3,600 volunteer events across 30 countries. The value of their volunteerism, in addition to accompanying volunteer grants, provided $700,000 to local communities in need. In addition, associates gave more than $3 million in contributions to more than 2,500 nonprofit organizations around the world through Ecolab's Community Giving Programme. For example, in partnership with Kids in Need, Ecolab associates in the Washington, D. C., area assembled more than 1,000 backpacks with supplies for local children to start the school year.
As the war in Ukraine continues, Ecolab is committed to finding ways to help those in need. As of April 8, we have committed more than $7 million worth of Ecolab products to support the humanitarian response. Additionally, Ecolab associates have contributed their own funds, with the Ecolab Foundation offering a 50% match for all associates wishing to donate to Ukraine relief efforts through Ecolab community giving opportunities. Global challenges certainly remain, and we will continue to support our communities around the world through product donations, cash grants and employee volunteerism to provide relief and opportunities for those in need. For more information about Ecolab's community giving initiatives and the Ecolab Foundation, visit our Community Involvement page.