Healthy Competition Improves Milk Quality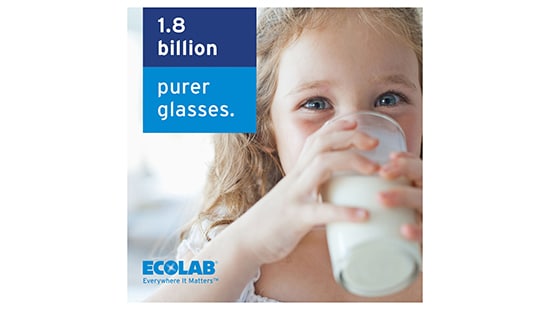 Ecolab helps protect 1.8 billion glasses of milk in New Zealand through its dairy farms solutions business that advances milk quality through industry leading service and expertise.
Maxwell Farms currently milk 12,500 cows over 12 dairy farms and operate in New Zealand on the North Island. Last season, the farm experienced inconsistent milk quality results (which happens from time to time) and where the root cause was unclear.
Maxwell Farms supplies Open Country and Fonterra, the two largest suppliers of whole milk powder in the global market consistently producing milk to the finest quality.
To help improve performance and focus, a competition was set-up which was fully supported by staff and sponsored by Maxwell Farms, Open Country, Fonterra and Ecolab. Over the course of the last two seasons the business has transformed its milk quality output with 90% improvements including three farms grade free for the first time.
In partnership, staff and service providers have undertaken significant dairy hygiene training which has improved day-to-day management and alongside the experts, quickly identify root causes to ensure the finest quality milk is produced every day.
Craig Sulzberger General Manager for Maxwell Farms says, "Protecting milk quality not only protects the consumer but also helps our business receive better outcomes. All staff are proud in the knowledge they are contributing to produce a world class product and the competition has been a fantastic initiative that everyone has embraced – winning with bragging rights against their mates down the road has become a ritual. We have been able to leverage Ecolab's expertise and chemistry through this process and we are very appreciative for that."
Colm Culligan, F&B General Manager at Ecolab comments, "We were happy to partner with Fonterra, Open Country and Maxwell Farms to do our bit. Our help has ensured issues are being resolved quickly and we are very pleased with the milk quality performance by Maxwell Farms - their results have been nothing short of transformational. The knowledge and expertise of our people has been key, coupled with industry leading products, training, and technology as well as, some healthy competition to really drive improved results going forward."
Ecolab helps protect 1.8 billion glasses of milk in New Zealand through its dairy farms solutions business that advances milk quality through industry leading service and expertise offering:
Udder Hygiene Solutions
CIP Hygiene Solutions
Technical Support and Training
Technical Support and Training
Specialty Products
People in New Zealand and around the world choose milk as a staple in their diet and dairy is recommended in dietary guidelines as part of healthy, balanced diets for optimal health.
---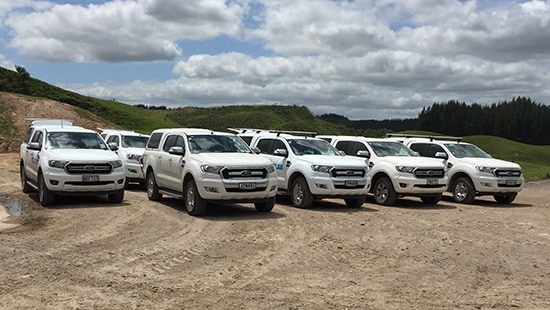 Ecolab fleet of vehicles on Maxwell Farms.
---
Fonterra are an Aotearoa, New Zealand dairy co-operative owned by 10,000 farming whānau (families). Through the spirit of co-operation and a can-do attitude, Fonterra's farmers, along with 20,000 employees around the world, share the goodness of our milk through innovative consumer, foodservice and ingredient brands. Sustainability is at the heart of everything we do, and we're committed to leaving things in a better way than we found them. Everyday people working hard to be Good Together in the community.
Open Country is New Zealand's largest independent dairy manufacturer and the second largest whole milk powder exporter worldwide. The company produces a wide range of dairy ingredients that are valued for their superior quality, taste and consistency by manufacturers of fine food and beverages throughout the world.
Maxwell Farms is a large privately owned dairy farming business milking 12,500 cows and employing 75 full time staff across multiple North Island locations. It also has a large forestry portfolio and dry stock operations. Head Office is located at Rotorua.
---
For more information, please contact:
Carrie-Ann Jefferies, Communications Specialist, Ecolab
(+61) 418 518 903
carrie-ann.jefferies@ecolab.com
---
About Ecolab
A trusted partner at nearly three million customer locations, Ecolab (ECL) is the global leader in water, hygiene and infection prevention solutions and services. With annual sales of $12 billion and more than 44,000 associates, Ecolab delivers comprehensive solutions, data-driven insights and personalized service to advance food safety, maintain clean and safe environments, optimise water and energy use, and improve operational efficiencies and sustainability for customers in the food, healthcare, hospitality and industrial markets in more than 170 countries around the world. www.ecolab.com
Follow us on LinkedIn @Ecolab, Twitter @Ecolab, Instagram @Ecolab_Inc and Facebook @Ecolab