Seconds save lives: Simple ways to make hand hygiene an integral part of your operation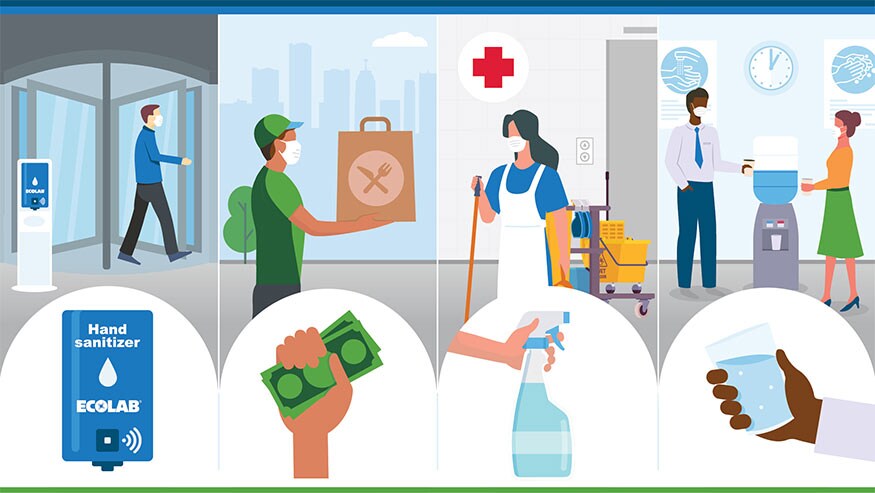 Like many people, I'm eagerly awaiting a safe return to some long-missed activities that have been on hold during the pandemic. I can't wait to eat in restaurants again, to travel, or to take a vacation with my family.
And like many people, I'll feel much better about returning to restaurants, hotels and other establishments when I see visible commitment to creating a clean environment. For me, that starts with hand hygiene. In the global effort to end the COVID-19 pandemic, perhaps no other routine safety precaution has been emphasized more than hand hygiene, and for good reason. Simply put, the seconds it takes to wash or sanitize your hands can save lives.

That's the message behind the World Health Organisation's World Hand Hygiene Day on May 5, a day that serves as an important reminder to businesses that are reopening, increasing capacity, or ramping up services in the months ahead. Whether you're working at a restaurant, food production facility, hotel, or care centre, proper hand hygiene is essential for preventing the spread of a wide range of germs that can cause diseases, including COVID-19. Plus, customers have come to expect a higher level of hand hygiene at businesses today. In a recent survey from the Morning Consult, for example, a majority of people said installing more hand sanitizers would make them feel more comfortable.

So, what's the best way to make clean hands an integral part of any operation? Make it easy — for both employees and guests. To help with that, I've pulled together some best practices and key insights from our hand hygiene experts. You'll also find a few valuable resources you can use to help ensure effective hand hygiene practices now and into the future.

Build a positive experience
The goal should be to make hand hygiene a healthy habit for both employees and guests. For that to happen, you need to ensure you're using high-quality products that are both effective at killing germs and easy on skin, producing an overall pleasant experience.

Some soaps and sanitizers might kill pathogens, but can result in dry or irritated skin after repeated use. With that in mind, Ecolab's hand hygiene products are formulated with skin-friendly ingredients, such as emollients (i.e., moisturizers) which can help prevent skin irritation.

It's also important to not prioritize aesthetics or scents. A soap that smells nice can be an added value but is not nearly as important as providing a quality product that works against germs and doesn't include harmful ingredients.

Make products accessible
For employees and customers to regularly use hand hygiene products, they need to be made readily available. A good first step is to identify the key locations where products should be accessible, such as entrances and exits, reception or check-out desks, washrooms, and food serving areas. Any high-traffic areas with common touch points, such as break rooms, should be considered.

Also make sure that you have adequate product supply to meet your needs, along with the right products in the right areas. Critical areas, such as washrooms or food preparation areas, should have access to antibacterial soap and water. Other locations, such as entrances, should be supplied with hand sanitizer.

Products should be prominently displayed and clearly visible to promote usage. Signage can help, especially reminders for workers, prompting them do the right thing at the right time.

Commit to training
Any effective, sustainable hand hygiene programme needs to properly train staff on how and when to use the right products, as well as provide guidance for guests. Though specific actions vary from industry to industry, our team works with businesses to help make proper hand hygiene habitual at key moments, such as when changing environments or touching communal surfaces or objects.

Regular communication about these moments, and even basic handwashing procedures, can help keep hand hygiene top of mind. With that in mind, we developed a chart that helps highlight the key moments to remember hand hygiene. Feel free to use this with your teams to help create a culture of personal accountability for hygiene that improves the overall health and cleanliness of your operation.

If it all seems too easy, remember that's the point. The simple act of washing hands, as World Hand Hygiene Day reminds us, can save lives. For businesses, it can also save reputations and play a key role in building safety and success as we transition to brighter days ahead.
Infographic Download: Practice Hand Hygiene