Nestlé's MILO factory saves 5 million litres of water annually with Ecolab remote monitoring technology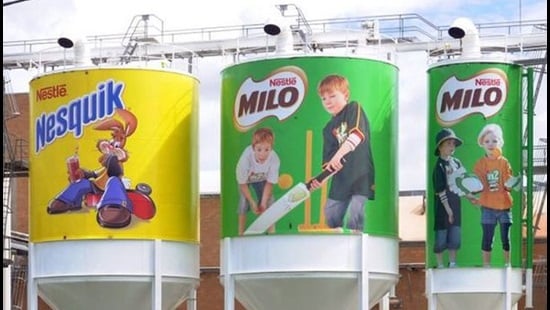 Nestlé's Smithtown factory is the birthplace of an all-time Australian favourite, MILO. MILO was first mass produced on the NSW mid North Coast more than 80 years ago. Despite tough operational challenges during the COVID-19 pandemic in 2020, Nestlé was able to continue manufacturing the Aussie favourite while also improving its operational efficiency and water use due in part to digital management and remote monitoring technology from Ecolab.
Brooke Lusted, Nestlé Smithtown Factory Industrial Services Engineer said, "We're living in a time when digital capabilities are more important than ever."
"Nestlé has been able to leverage Ecolab's 3D TRASAR™ Technology to deliver water savings, extended asset life and Legionella risk management throughout the COVID-19 pandemic, while keeping our workers safe and our factory operational.
"Before we implemented this technology in 2018, the process relied on manual verification. This caused a lag in time and an inability to understand what was happening in the process in real-time. Having real time data visibility of the process has enabled a 15% reduction in water consumption which equates to 5 million litres of water savings annually. Additionally, we have been able to reduce manual operations and touchpoints for our teams, which in today's hyper-hygiene world is critical."
Ecolab's 3D TRASAR Technology gives data visibility and process optimisation – balancing chemical savings and water savings versus asset life. Over the last year Ecolab and its 1,400 3D TRASAR customer installations have saved 6 billion litres of water across Australia and New Zealand.
"Ecolab is dedicated to using technology to improve water use in business and drive operational efficiencies and performance," comments Donovan Stevens, Market Lead for Nalco Water Light at Ecolab. "With Nestlé, we are proud to do both to help them deliver great consumer products, like MILO."
Donovan goes on to say, "Due to the necessary COVID-19 changes we have been unable to go onsite at Smithtown. However, with Ecolab's 3D TRASAR™ remote technology we can still service customers like Nestlé safely."
Ecolab's 3D TRASAR™ Technology remotely provides real-time sensing and dosing of streams for cooling towers and other water-intensive processes. It delivers in-plant measurement and control for industrial and commercial operations worldwide. Thousands of sensors in thousands of facilities around the world feed data to in-plant monitoring equipment, and that data is then transferred in real time to a secure cloud storage platform built on Microsoft Azure and Azure IoT Suite. Ecolab uses this data to work with clients to develop innovative technologies and processes that drive water sustainability and operational efficiencies.
Nestlé's Smithtown factory has been operating at Smithtown since 1921 and is the birthplace of MILO, the iconic milk drink that was invented more than 80 years ago and has been produced at the factory ever since. The factory also manufactures NESQUIK, NESTLÉ Malted Milk as well as, the NESCAFÉ coffee mixes range.

For more information, please contact:
Carrie-Ann Jefferies, Senior Communications Specialist, Ecolab
(+61) 418 518 903
carrie-ann.jefferies@ecolab.com
ABOUT ECOLAB AUSTRALIA
Ecolab is the global leader in hygiene safety, water and infection prevention solutions and services. With annual sales of USD13 billion, its 45,000 associates service nearly three million commercial customer locations worldwide. Partnering with many of Australia's biggest and most important businesses, institutions and brands, Ecolab helps ensure healthy environments and food safety for customers, employees, patients and partners. Ecolab hygiene safety products and solutions span all aspects of Australian society and industry, including Hospitals and Healthcare, Aged Care, Public Transport, Schools, Emergency Services, Restaurants, Hotels, Retail, Food & Beverage Manufacturers, Mining and more. Ecolab is "everywhere it matters". Trusted in Australia. Number one around the world.
ecolab.com