Bed Bug Control
Bed bug infestations are found throughout the world and show up even in the most exclusive hotels, resorts, long term care facilities, cruise ships and other places where people gather. These small, nocturnal, blood-feeding insects can damage your brand and reputation, resulting in costly inventory replacement, or worse. Trust the experts at Ecolab to inspect and treat your facilities for bed bugs.
Bed Bug Control Programme
Our dedicated bed bug research team produces and examines thousands of bed bugs every week in order to evaluate new products and equipment, ensuring the best tools are made available to our service team and customers. Proven effective in over 500,000 hotel rooms, our science-based proactive & reactive multi-treatment protocol is designed to kill bed bugs at all life stages, helping to minimise their impact on guest and resident safety and satisfaction. Visit our Bed Bug Toolkit page to learn more about bed bugs and bed bug control.

Our Bed Bug 3-visit Service Overview:
1. Initial Service: Inspection/Treatment
2. 4 Day Follow-Up Service: Inspection/Treatment
3. 14 Day Follow-Up Service: Inspection/Treatment
Ecolab will inspect and treat all infested and adjacent rooms according to Ecolab's patent pending service protocol. We minimise room downtime and can turn over adjacent rooms and follow-up services in a few hours and infested room are only out of service for a short amount of time.
Ecolab's comprehensive HotelProtect programme delivers science-based solutions developed by our pest elimination experts. The programme combines an outside-in approach to pest control with on-site consultation, data-driven reporting, customer support 24/7/365 and educational tools to raise awareness on how they can prevent pest activity.
Bed Bug Videos
Teaming Up Against Bed Bugs
Pests and Bed Bugs in Hotels: Hear What Guests Have to Say
Learn How to Reduce Your Risk of Bed Bugs
Bed Bug Articles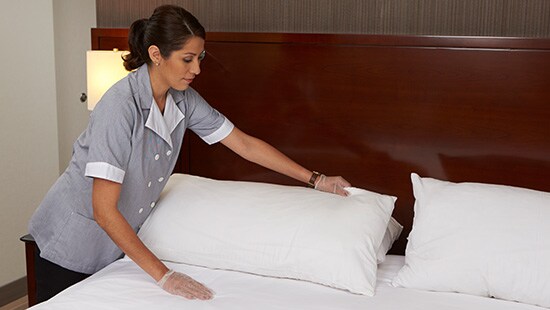 Being Proactive About Bed Bugs
Bed Bug Educational Resources
Our Pest Elimination Offerings
Learn more about all our Pest Elimination offerings
No related pest elimination offerings were found.