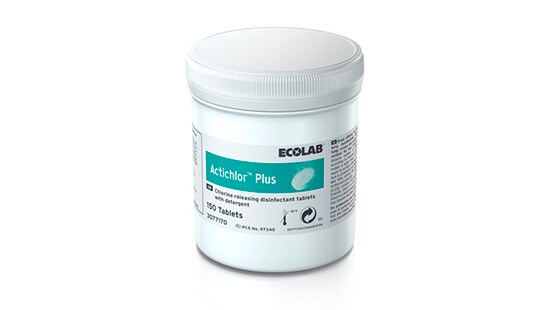 Actichlor™ Plus
Actichlor™ Plus is an effective chlorine disinfectant product for all aspects of surface and environmental disinfection. It combines a chlorine compatible detergent with NaDCC in a single tablet format, offering excellent cleaning and disinfection performance in one easy step.
Product Details
Effective chlorine disinfection in convenient tablet format
Broad spectrum efficacy suitable for a wide variety of applications, including blood spills and sporicidal disinfection
Easy to use, with detailed training materials and guidance available
Single-step cleaning and disinfection
Application Area
For disinfection of blood spills, general clinical environment, sinks and drains and catering equipment.
Instructions for Use
To achieve a solution of 1000ppm, dissolve 1 x tablet in 1 litre of water; or for a solution of 10,000ppm, 10 x tablets in 1 litre of water. Please see dilution tables for additional instructions.
Training and Support
A dilution bottle is available to assist accurate dilution of Actichlor™ and Actichlor™ Plus. The range is also supported by usage posters and cards and a training video, available from your Healthcare Manager.
Microbiological Properties
Disinfectant solutions made with Actichlor™ Plus are effective against bacteria, spores, yeasts, moulds and viruses.
Product Specifications
Actichlor™ Plus Tablets - Effervescent NaDCC tablets with detergent
Use biocide products with caution. Always read the label and product information before use. For professional use only.
---
For more information please refer to the product label/SDS.