Ecolab Wins 2019 Singapore Environment Council-Senoko Energy Green Innovation Award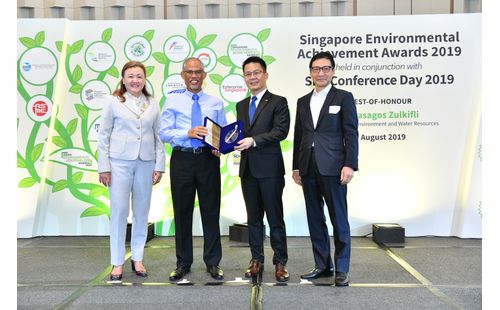 In photo (from left to right): Ms. Isabella Huang-Loh, Chairman of SEC, Mr. Masagos Zulkifli, Minister for the Environment & Water Resources, Mr. Kian Tick Ong, Managing Director, Ecolab Singapore & Malaysia, and Mr. Koji Kuroda from Senoko Energy Pte Ltd. 
SINGAPORE, September 2, 2019 – Ecolab, a global leader in water, hygiene and energy technologies and services was awarded winner of the Singapore Environment Council (SEC)-Senoko Energy Green Innovation Award 2019.

Held in conjunction with SEC Conference on 27 August 2019, SEC announced the winners of the Singapore Environmental Achievement Awards (SEAA) one of the most prestigious environmental awards in Singapore and the broader Asia region that recognizes environmental stewardship. The event was graced by the Singapore Minister for Environment and Water Resources, Masagos Zulkifli. SEAA is Singapore's first United Nations Environment Programme (UNEO)-accredited award, that has been running for 22 years.

Following a rigorous assessment process, Ecolab was selected as the winner of the SEC-Senoko Energy Green Innovation Award 2019, for its sustainable and innovative warewashing programme, known as SMARTPOWER™.

Executive Director of SEC, Ms Jen Teo said, "Ecolab's environmental commitment and leadership in innovative solution stood out. We hope that this award will continue to inspire and encourage others to affirm their commitment to environmental excellence in corporate sustainability in Singapore."

Ong Kian Tick, managing director and vice president of Ecolab Singapore and Malaysia said, "It is a true honour to receive this award and be recognized for our innovation. The goal of innovation at Ecolab has always been to deliver exponential customer value through our chemistry, digital technology and on-site service. SMARTPOWER™ is testament to Ecolab's commitment to helping our customers keep their environment clean and safe, operate efficiently and achieve sustainability goals".

The SEC-Senoko Energy Green Innovation Award looks at innovative developments and design of both existing and newly introduced technologies and includes elements of reducing the environmental impact of products, improving resource efficiency and/or the use of alternate technologies and processes.

SMARTPOWER™ warewashing programme helps food and beverage operations – both in the hospitality and food service industries – to bring its kitchen operations and sustainability to the next level. SMARTPOWER's sustainable packaging helps businesses to reduce approximately 96 per cent of plastic use and with its digital insights, it is capable of optimizing resources allocated to warewashing to ensure smooth and efficient kitchen operations by reducing water and energy resources.
---
"Ecolab's environmental commitment and leadership in innovative solution stood out. We hope that this award will continue to inspire and encourage others to affirm their commitment to environmental excellence in corporate sustainability in Singapore."
---
Ms. Jen Teo
Executive Director of SEC