Feeding the Future: A Positive Perspective on Environmental Impacts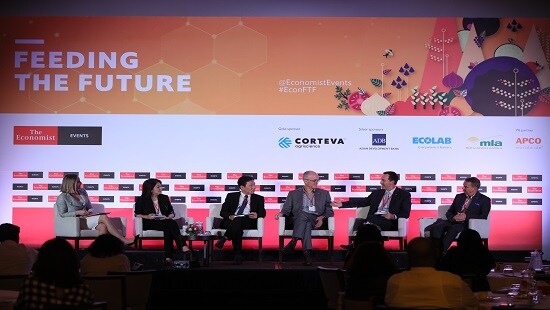 In photo from left to right: Miranda Johnson, Southeast Asia Correspondent, The Economist, Judy Chen, Chairman, Ocean Park Conservation Foundation Hong Kong, Nguyen Do Anh Tuan, Director-general, Institute of Policy and Strategy of Agriculture and Rural Development, Mike Briers, Chief Executive, Food Agility, Sean Toohey, Executive Vice-President and President, Asia-Pacific, Ecolab, Peter Ford, President, Asia-Pacific, Corteva Agriscience.
Food security is increasingly under threat. As the world's population is projected to reach 9.7 billion by 2050, food security becomes an even more important issue. From climate change, changes in consumer demands, to geopolitical uncertainties, food security challenges continue to rise. Simply put, the challenge ahead of us lies in how to produce food in a sustainable manner to feed the rising number of people in the world. 

Speaking at the Feeding the Future summit organised by The Economist Events last week, executive vice-president and president of Ecolab Asia-Pacific, Sean Toohey, discussed with industry opinion leaders about the need for businesses to operate sustainably, how science and technology can help tackle food security risks, and positive environmental impacts observed within the food industry.

There continues to be heavy emphasis on the economic and geopolitical risks involved in agriculture and how farmers need to embrace change and new technologies to streamline food production, while reducing inefficiencies. However, we should address the initial stage of food production: all entities in the entire farm-to-fork journey play a critical role in ensuring food is safe.

Using water consumption as an example, Sean shared that food and agriculture are the largest consumers of water – up to 70 per cent of the water we use goes into irrigation, about 20 per cent is used in industry, and approximately 10 per cent of water is taken for domestic applications. This demonstrates that everyone is responsible for food security and there is a huge opportunity for science and technology help reduce, reuse, and recycle water consumption.

Citing the case of India, one of the world's largest producer of steel, Sean highlighted Ecolab's role in helping the high-water dependent industry reduce water usage by up to 50 per cent, thanks to smart water management and digital technologies. This is equivalent to one year's worth of drinking water for more than 7.9 million people, more than the combined populations of the cities of Kolkata and Pune.

In addition, Sean shared that it is important to address other aspects of the farm-to-fork journey, such as food packaging. There is a need to leverage technology to set high food security and safety standards. Only with a collaborative approach and through sustainable business practices a better and brighter food future can be achieved.
"Businesses must have sustainability as its core. Sustainable operations in the food industry such as zero liquid discharge are currently enforced by multi-national corporations and we will continue to see these practices furthering sustainability."
Sean Toohey 
Executive vice-president and president of Ecolab Asia-Pacific